Preventive Measures for Improved Health
Prevent unwanted pregnancies and reduce the risk of your pet contracting numerous diseases by having them spayed or neutered.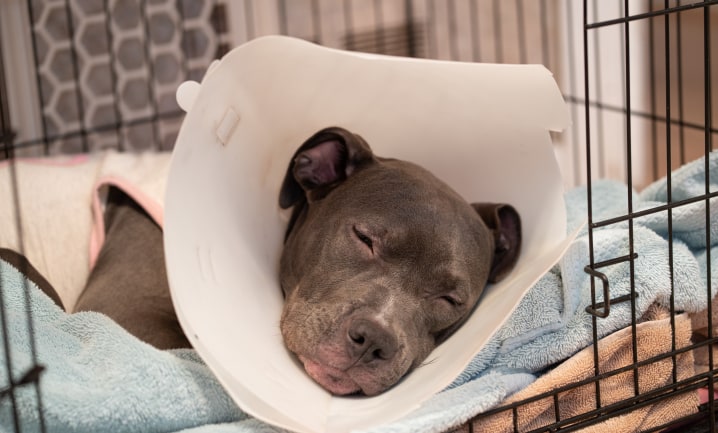 Spaying or neutering your pet
Shelters across the country see millions of unwanted cats and dogs come through their doors every year. Worse, many animals are euthanized.
By having your cat or dog spayed or neutered, you'll be helping to prevent unwanted pregnancies as your pet comes of age. Spaying or neutering can also reduce the risk of your pet developing serious health problems.
What is the difference between spaying and neutering?
When we spay or neuter your pet, we put them under general anesthesia and surgically sterilize them. 
SPAYING (FEMALES)  Spaying (also known as ovariohysterectomy) involves removing a female's reproductive organs. 
NEUTERING (MALES)  Neutering (also known as orchiectomy) involves removing the testicles. Considered a simpler procedure than a spay, the term 'neutering' can also refer to the desexing or 'fixing' of either gender.
Benefits For Dogs
Spaying or neutering your dog offers 6 key benefits:
It cuts the risk of prostate and other cancers.
Your dog's heat cycle will be gone. Say goodbye to nervous behaviors, bleeding, and crying when they are in heat. 
It reduces issues stemming from marking and spraying.
It stabilizes your dog's mood and makes them calmer.
It reduces the urge to mate.
It can curtail sexualized behaviors.
Benefits For Cats
Spaying or neutering your cat offers 6 key benefits:
Say goodbye to naughty behaviors, including marking territory by spraying urine.
Neutered cats are less likely to wander from home.
Your cat may act more affectionate.
It cuts the risk of your cat contracting certain diseases.
It diminishes the risk of uterine infection for female cats.
It may curtail the risk of mammary (breast) cancer in female cats.