Your First Visit: What to Expect
Welcome to Western Carolina Regional Animal Hospital & Veterinary Emergency Hospital! Here, you can learn what to expect with your pet's first appointment with our Flat Rock vets.
Step 1:  When You Arrive
The day of your first appointment, please plan to arrive about 10 minutes early so that you can fill out a New Patient Form for your pet. You can also choose to fill this out online prior to your appointment.
Step 2: We Get to Know You
You and your pet will be introduced to your vet. Once in an examination room, we'll review your pet's medical history and habits and take a moment to discuss any goals you may have for your pet's care.
Please feel free to ask as many questions as you need to. We will be sure to take the time to answer and ensure you are comfortable with the care we will provide your pet.
Step 3: Full Exam
At this point, your veterinarian will perform a full 'nose-to-tail' exam. This will be a thorough assessment of your pet's skin, coat, eyes, ears, mouth, nose, legs, joints, abdomen, and anal sac.
Using a stethoscope, your vet will listen to your pet's heart and lungs. For older pets, blood tests to check kidney, liver, and internal organ function may be done as well.
Any vaccinations or lab work that your pet may be due for can also be taken care of at this appointment.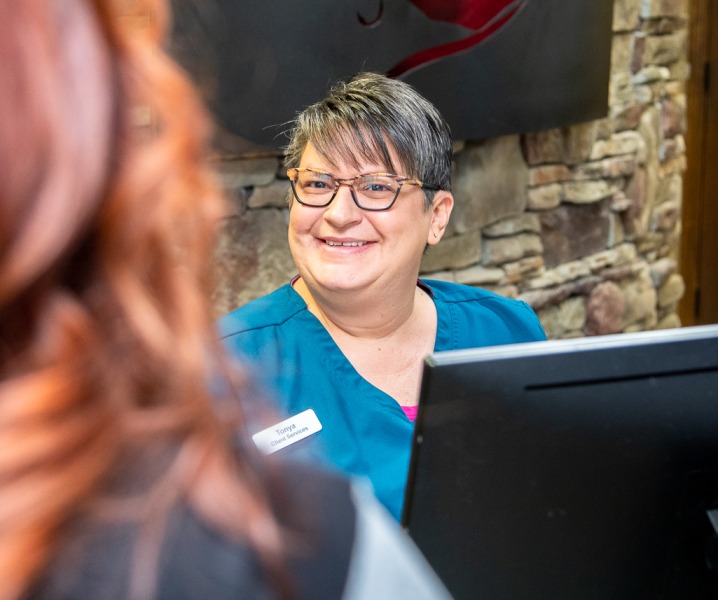 Office FAQs